Cagliari
With over 400,000 people in its metropolitan area, Cagliari is Sardinia's largest city and a regional capital. Radiantly charming, multiethnic and lively, the city extends to seven hills that look out over an enchanting sea. The mild winters of its Mediterranean climate and summers cooled by Maestrale winds makes Cagliari is a coveted destination for tourists from all over the world 365 days a year. Sardinia's most beautiful beaches in Solanas, Villasimius and Costa Rey on the southeast coast and the coves of Chia and Porto Pino on the southwest coast are less than an hour away.
A jewel set in nature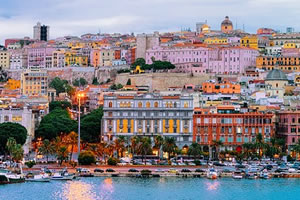 The natural beauty that surrounds Cagliari lies within minutes of Portus Karalis Marina. Poetto Beach, seven kilometers long, is just 15 minutes away along one of Italy's most beautiful municipal coastlines. The area's many parks and lagoons provide habitats for numerous protected species. Pink flamingos flying over the city is not an infrequent sight to see. With its crystal clear sea, breathtaking sunsets, and natural beauty, Cagliari offers the ideal setting for all sports activities and leisurely strolls through a well-kept Mediterranean city proud of its traditions.
Events, art, and culture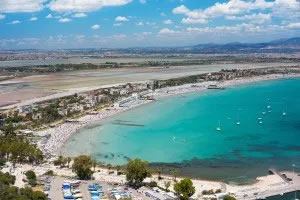 Mooring in Portus Karalis offers a front-row seat at Cagliari's lively, suggestive center. Thousand years of history make it a magical place where the past remains alive inside ancient city walls and beneath whitened ramparts and watchtowers. Its architecture and monuments give Cagliari unique personality, testifying to the passage of the civilizations brought here by Phoenicians, Pisans, and Romans. The town's four historic neighborhoods near the port vaunt an assortment of museums, noble palazzi, and archaeological sites. A city of constant celebration, Cagliari hosts numerous cultural events and offers entertainment all year round in praise of beauty and the cultivation of art under the banner of centuries-old traditions
Shopping and Fun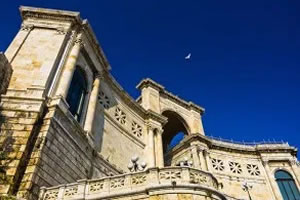 >Restaurants, nightclubs, live music, and block parties. Cagliari knows no boredom. Considering the city from its port, the gaze instantly extends up Via Roma, the city's meeting place that shelters beneath elegant porticoes its most sophisticated shops, jewelers, bars, and restaurants. Just steps away from Portus Karalis Marina, marvelous Largo Carlo Felice leads to shopping heaven, the Marina and Castello neighborhoods, and Piazza Yenne, the throbbing heart of Cagliari's nightlife.